Monday: The One With All the Flying, Pt. II
You join us where you left us, trudging from the Fake-o-Rail, looking for the car!

After what felt like hours (probably about 10-15mins) walking around the airport with our cases, we found the Alamo desk and joined yet another queue.


I was NOT impressed with Alamo AT ALL. We will definitely not be using them again. Rewind three years to our last trip, we booked the car that we were recommended, turned up to collect it, and were told that it was only suitable for hand luggage and we needed to upgrade. Fortunately that day we got a healthy dose of pixie dust and the upgrade was free. When we went to book this trip, we told the travel agent what had happened last time, that we had been given the wrong car, that we took full-size cases AND hand luggage, and so we needed to book the next size up. OK, no worries, it was all booked and sorted, the car would take our cases.


When we eventually got to the Alamo desk at MCO, the guy took one look at our luggage and said "Are they yours too?" (Noooooooo, my friend, we just picked up someone else's random luggage to drag around the airport…Duh!) We replied that yes, they were ours. We didn't look like we were emigrating or anything (you saw John's case in a previous post, mine was a similar size), just one case and one hand luggage item each. He looked at us like we were planning on loading a circus into a convertible.


"They won't fit in this car, you're going to need an upgrade. The one they've booked you is for hand luggage only." SERIOUSLY?! Again?! We made it VERY clear that the car we were given last time wasn't suitable when we were booking this trip, so either our travel agent majorly messed up, or Alamo are trying to scam foreign travellers who are unfamiliar with the makes/models of cars over there out of money at the airport. He point blank refused to even let us try to get our cases into the car we were allocated (I was sure we could have fitted them in if we dropped the back seats), the options he offered were:

Lose the money we'd already paid, and go to a different rental company.

Pay a "small fee" to upgrade the vehicle to one that would hold our luggage, and take up the issue with the TA when we got home, because it was their error not his.

Call a taxi.


This time there was zero pixie dust and a massive $354.88 bill to pay for the upgrade. The guy was REALLY off with us, refused to "waste time" showing us the car, complained that he had to deal with travel companies doing this all the time and it was a PITA, and generally was a total word-that-can't-be-used-around-preschool-toys. I don't know how much Alamo were paying this con-artist, but $354.88 was not a "small fee" to us! That was about ⅕ of our entire budget for the two weeks we were there, including money that we had to do some shopping for other people back home who sent us with requests for hard-to-find-in-the-UK items. Fortunately we could just about fit it onto a credit card that we had with us, but if we couldn't have done that we would definitely have had to cancel some ADRs and change our plans. I was furious! But that was NOT how I wanted to start our magical trip and I already had a headache, so I filed the receipt away to worry about later when we got home.
[Since we returned home I have contacted the travel agent, and they HAD booked us the right car, our luggage would have fitted in it easily. They are currently chasing Alamo to get us our refund! We were lucky that we had room on a card for the extra expense, but losing that much cash would totally ruin some families' trips. We are NEVER using Alamo again!]

So, pockets lighter, cases feeling heavier by the second, we went to collect the car.

I couldn't believe the heat when we stepped out of the airport! So this is the humidity I've heard so much about! I see what you mean now. Wow! I was still feeling really bad so the heat didn't help at all. We decided that, instead of checking in and going straight back out again, we would check in and hang out in our room for a while in the hope that I would feel better after a nap. Soon we were on our way to the resort. I called home on the way to let them know that we had landed safely. They already knew! Dad had downloaded an app on his phone, and was tracking our flight on that, as well as on the computer. It took us almost 2hrs from landing to getting to the resort, so I'm glad they knew we landed safely at the time and weren't waiting all that extra time to hear from me. They passed the message around the rest of the family too to save my phone bill!


I was so excited to finally get to stay on property. We parked up and headed into Corner House, where "Boris" explained that his real name was actually Anthony, but his room-mate had taken his badge so he had to wear his boss' and now all the other staff were teasing him. He was lovely, and very helpful. We chatted about the parks, Halloween, favourite rides and shows, and he gave us the welcome info about the resort. Finally we got to the bit I'd been waiting for...Our Magic Bands!! We didn't get the cool Incredibles box, but never mind. Anthony/Boris set mine up first, and I decided to model it right away. Then he tried to set John's up and it just wouldn't work! He tried everything, but nope, no luck. Kudos to him for trying for so long, but by now my aching head was really wishing he would just give in and get us a new one! Fortunately John had chosen the grey MB anyway, so having a replacement grey one didn't really matter, and we were allowed to keep the original as it was the one with his name printed inside. Magic Band #2 worked fine, thank goodness! As we were about to walk away Anthony/Boris said ""Wait a minute! I almost forgot, we have a package for you!" I got so excited thinking that it was some kind of gift or pixie dust treat, haha! Nope. I was so excited to be there that I had completely forgotten that I had ordered something online to be delivered to the resort. It was the shirt I ordered from Trixin Clothing! I'd been drooling over them for ages, but couldn't face paying shipping/import duty to get it sent to me at home. Fortunately CBR played PO Box and I was able to collect it and stow it in my luggage! Sadly it was WAY too warm to wear it on our trip, but it shall keep me warm now that we are back home! With Magic Bands and mail collected, we were on our way to Jamaica!!


I originally requested Jamaica because of the pretty walk across the little island, and because it seemed the closest to Old Port Royale without actually taking up a room in the immediately adjacent islands, which I thought we didn't need to do as much as the people with small children, elderly/disabled relatives, etc. Then...They closed the bridge. Hmm. I know we could have contacted Disney and tried to change our request, but honestly, we are both young, able-bodied and capable of walking, and I felt like we should leave the room swaps for the people who needed them more than we did. I'm so glad we did! It seemed there were way less people staying in Jamaica than the other islands, and our little corner of the resort was SO quiet, we only heard other people once during our whole stay.


The resort was STUNNING! We parked up in Jamaica and headed off to find room 4553. One thing I will say about CBR is to save enough energy at night to get back to your room! It felt like a maze to find our door, and the walk seemed so much longer after a full day in the parks! I knew what to expect from the rooms as I had been stalking the DISboards and TripAdvisor, but I was surprised how big it was in real life. I was a little sad that there weren't any little hidden Mickey/character touches in our room, but it was spotlessly clean and well-maintained, so I wasn't about to complain! For the brief amount of time we spent there (shower, sleep and shopping storage!) it was just perfect.


Here is a little video of our drive from the airport and a quick room tour. Yes, that is Kermit singing Kokomo. Sadly, what with the split, and the new TV show, Caribbean Kermit (who helped to plan our trip) was too busy to join us, but we wanted him to factor in there somewhere! Plus at least one person on the bus (usually me) would start singing/humming this song on the bus as they announced each island. The day it popped up on the steel band music loop on the bus I just about died!



Once we'd dropped the cases and bags and explored the room, I insisted on meeting Stacey! I was feeling worse, but everyone seemed to rave about the Stacey channel, so I had to put it and see what the hype was all about! Then John took over the remote so I settled down and had a nap, but when I woke up later I felt no better. I was sad that our first night was ruined and that I felt so bad, and we headed to Old Port Royale to cancel our reservation at Planet Hollywood and so that John could get something to eat. It did mean that we fell foul of the $10/pp cancellation fee, but I knew that I couldn't have eaten anything (I actually tried a few of John's fries that I managed to keep down until we got back to our room before they made their untimely exit).

I did, of course, manage to snap a couple of pictures on the way to OPR.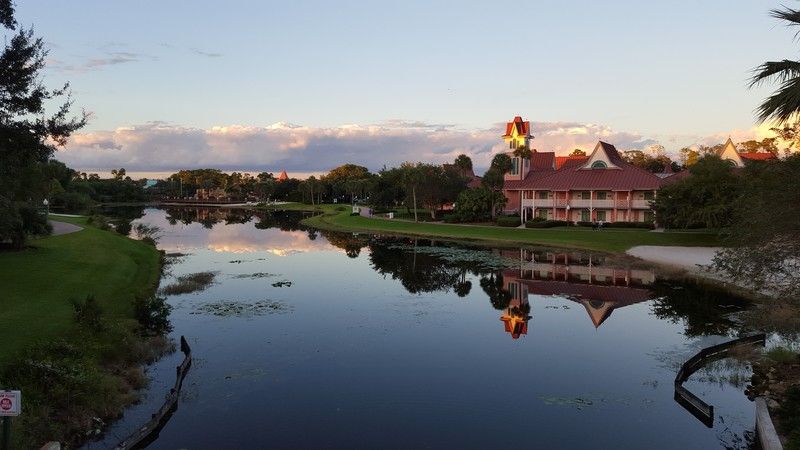 How does somewhere this perfect exist?! So beautiful.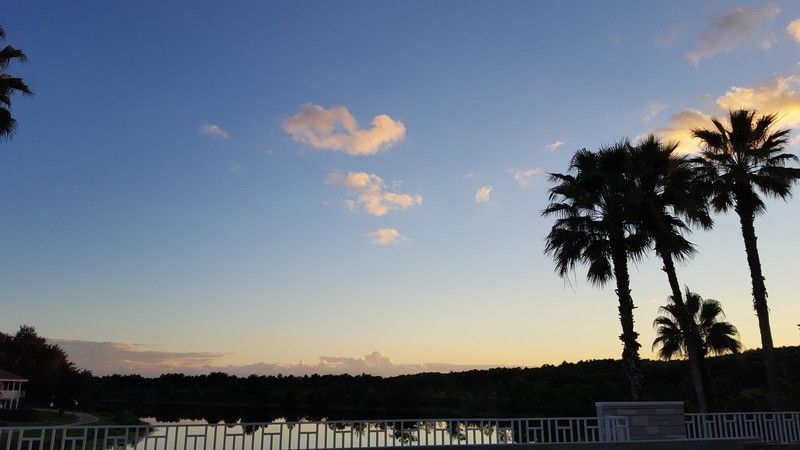 No-one wants to start their trip to Disney throwing up...This was not going well at all! I was tired and sad and felt terrible. I couldn't really hear properly because of my sinuses/ears, but the air-con unit was somehow still SO LOUD to me that it was making me feel even worse.

We had a breakfast reservation the next morning, and a MNSSHP and Hallowishes dessert party in the evening, so we went to bed early in the hopes that tomorrow would be a better day.

It had to be...we were finally in DISNEY!!!