Wednesday: The One With The Clogger and a Very Special Train Journey Pt. I

If you're only interested in all things Disney, you might want to skip today! Today we were headed for Universal. If you're prepared to head to The Dark Side (hehe!) then come along with us...


I have to confess, I'm a big Harry Potter fan. I didn't want to be. I fought it for as long as possible. I try not to read what other people are reading because someone always spoils it. I did see all of the films when they came out, because a friend of mine is a cinema manager and invited us to the Friends and Family midnight screenings of them (honestly the only way to watch films is in the middle of the night with free pizza!). So I wasn't completely out of the loop, but I didn't actually read any of the books until 2012, when I decided that I'd better make the effort, considering that we had Universal tickets for our first trip. Since then I've read the full series (by my reckoning) about six times. I have them all on my iPod and they are my regular escapism lunch break reading when I'm at work. John on the other hand hates Harry Potter, J K Rowling, and anything vaguely connected. But he does love Universal Studios.


It was another beautiful day at CBR, as usual!


I can't get over how stunning CBR really is. We'd seen photos before we travelled, but really, it is one of the most beautiful places I've ever stayed. I love it! Sadly there was construction closing the bridge when we were there so we didn't get to do that pretty walk, but we'll save that for next time! We woke up later than planned after our party the night before, so we hurried to Old Port Royale for a quick breakfast, I had a pastry and John had a Chocolate muffin. We must have been late as they had stopped serving the breakfast options! We filled our mugs for the drive, and we were off to Universal STu


We bought park-hopper passes for Universal Studios and Islands of Adventure so that we could ride the Hogwarts Express. I can't tell you how excited I was about getting to go on the train! This came in very handy, as in all my research I completely forgot to check which nights were the Halloween Horror Nights party nights, when Universal Studios closed at 5pm. Originally we debated John going to a HHN and me going to another MNSSHP, as I HATE anything scary/people jumping out at me. I would either end up traumatised, or freak out and panic-punch one of the poor actors, or more likely both. I didn't want to be banished from Universal Studios for abuse of a zombie, so HHN was definitely a no-go for me. Especially as the theme for 2015 was clowns.



NOPE. Not for me. In the end we decided to both do a second MNSSHP as John didn't want to go without me and knew full well that sending me off for an evening alone in MK would probably lead to me never being seen again.
As we had some reservations made and he really couldn't afford to lose me this early on in our trip, we decided it was best to stick together for any Halloween parties.


We parked in VIP parking (well worth the extra $5 in my opinion, especially at the end of the night!), what the heck, we're on holiday! Normally we would never pay for something like that, but both of us were sore from our long park day the day before. Anything that would rest my legs even a little was fine by me! I do love the trip from the parking lot to the park though...The palm trees and the busy streets below, I don't enjoy it so much on the way back! We went through bag check, and noticed how young the "veteran" who checked my bag looked (do Disney have special badges for ex-armed forces cast members? I've never seen one. I like that Universal do it though). He was definitely quite a lot younger than us. Makes you think.


Every time we get to City Walk, I wonder "who on earth goes through all that fuss, just to go out to dinner or go to the cinema?!" Extortionate parking, the trek to the centre itself, bag check...Seems like an awful lot of effort and expense for a night out! We weren't there for City Walk though, we had a train to (eventually!) catch! We headed straight to the gates, collected our tickets from the pre-book machines, and went to find a bathroom.

It was SO hot today, and I was really feeling the heat. How many times have I complained about the heat so far?! Sorry! Basically for the duration of the trip, presume I'm about to sink into a melty gelatinous puddle at any second I'm outdoors. That's where I was at, weather-wise. We don't get heat like this at home…ever! After finding our bearings and taking a bathroom break, we decided to do something nice and cool indoors, so we went back the way we came, to the Shrek 4D show. No-one could believe that we didn't do this in 2012 when we went (I think last trip the queue was always full of rowdy cheerleaders in town for some championships or other, so we avoided it like the plague), so we HAD to do it this trip! There was a 20-30min wait, but the video screens were working playing clips, and there were plenty of cool decorations to look at.




The posters crack me up! We are huge cinema nerds. I would pay good money for the "Claws" poster, but sadly they don't sell them in the gift shop.




The show was really good! Though during the "warm-up" section we had the least excitable group ever...They did NOT want to participate! Boo! Spoilsports! I always worry things won't live up to the hype, but no, this definitely does. Funny for adults as well as kids, just like the films. Of course, as always, we were respectful visitors to the USA, and followed the number one Florida State Law: Always Exit Through the Gift Shop.
I could have spent a fortune in there on my nephew and nieces, but we had promised them Disney goodies so I was saving my money.

Next we decided to join the Minion Army. Next we SHOULD have decided to buy a drink, but we are foolish, and apparently had not learned that long queues outside are not pleasant places, even if the queue is covered. Off to Gru's we go!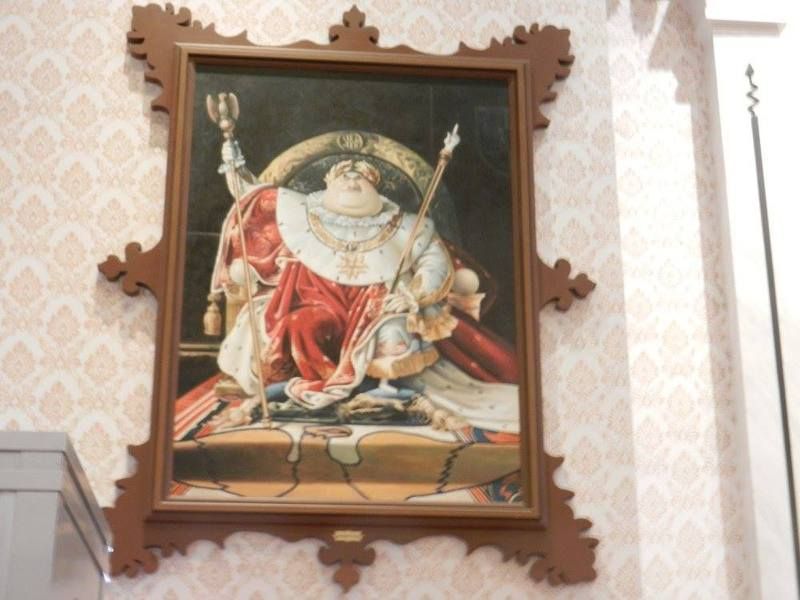 How sweet is this? I love Agnes and her unicorn, they're my favourites.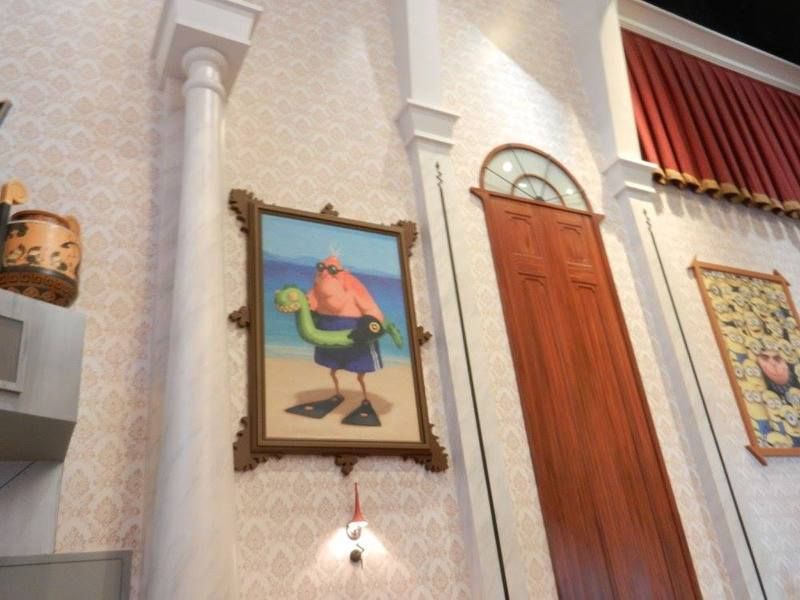 We really enjoyed this ride too! I love simulator rides, The Simpsons Ride and now Minions are two of my favourite rides. If you've ever played "Minion Rush", it felt to us just like being in the game, speeding through the factory! And, of course, the obligatory trip through the gift shop, which took forever as I feel a pull to buy anything with that darn fluffy unicorn on it. Sadly though, our budget wouldn't stretch that far, so we headed out.



My beloved unicorn. Sadly impossible to get a decent photograph. I should know, I spent long enough trying!

There's one bit of Universal Studios that I have been excited for ever since I found out about it. A little bit of (almost) home from home (we actually live about 3hrs away from London)...King's Cross Station! Grimmauld Place! The Knight Bus! Harry Potter! (Bonus points if you read "Harry Potter!" in Dobby's voice). I grew up on Enid Blyton books, so Harry Potter for me is an extension of all those magical, boarding school, adventure, wonderful happy reading feelings, rolled into one. John, as I mentioned, not so much. But, he dutifully trailed behind me, holding things, waiting for the perfect shots, and taking photographs when I wanted to pop out from behind the camera and actually be IN a photograph for a change!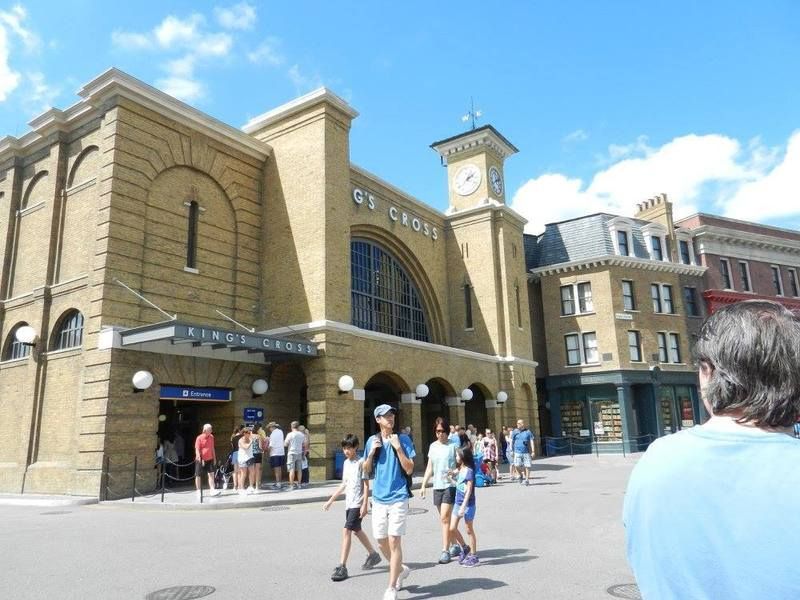 All aboard!!

Now, I have to say, clearly Universal did try their best, and you can tell they aimed for the highest level of accuracy possible, but sadly, we reached the decision that it could never actually be London. There were far too many litter bins, and absolutely no pigeon poop! Or, for that matter, pigeons!
I still loved it though! On this occasion however, we were just passing through. We had another town to visit first...and "it's a He!! of a town! The school yard's up and the shopping mall's down! Springfield, SPRINGFIELD!!" I love that song from the All-Syrup-Super-Squishee episode...



Last time we were in Universal, there was just The Simpsons ride. I was amazed to see the rest of the town had sprung up around it! We were hungry, so we set off in search of Krusty Burger! I was a little disappointed with the restaurants, if only because all of the storefronts actually led to the same place, where you joined one single queue to get in, and then chose from Lisa's Teahouse of Horror, Cletus' Chicken Shack, Krusty Burger, or Moe's Tavern counters, like you would in a mall food court. I thought it was a shame that they didn't keep them all as separate restaurants and continue the themeing into the seating areas. But, never mind.

I got Chicken Thumbs and Tots from Cletus' Chicken Shack...



and John got The Clogger from Krusty Burger...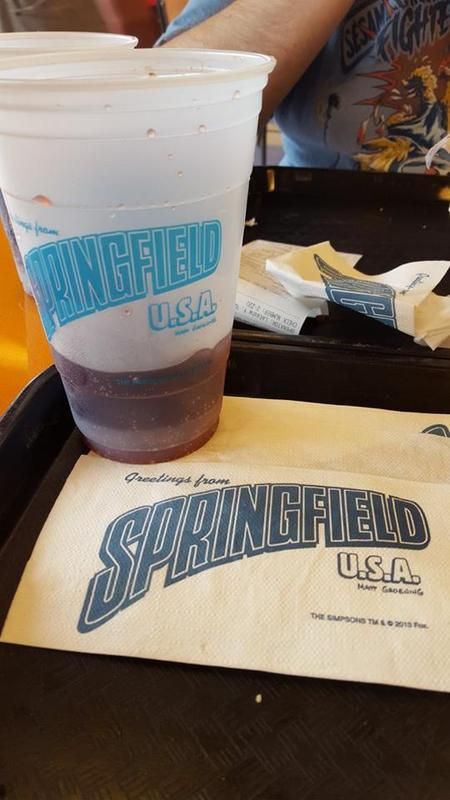 We both got "Buzz Cola", which was absolutely delicious! (Also, how awesome are those napkins?! I brought a stack home as a souvenir!). From what I can tell (spoiler alert!) it's just regular Coke with cherry syrup, but it tastes so much better than regular Cherry Coke! Much more flavourful. Though Cherry Coke in America is nicer than it is in the UK, it's still not as good as Buzz Cola though! John assures me the burger was delicious, and I really enjoyed my thumbs and tots (first time I'd ever had tots before! Foreign Food Alert!
). We had planned on getting a Lard Lad donut for dessert, but we were just too full from the clogger and thumbs to eat another morsel. We decided to burn them off with a stroll through Springfield.



Ay Yi Yi! It's Bumblebee Man!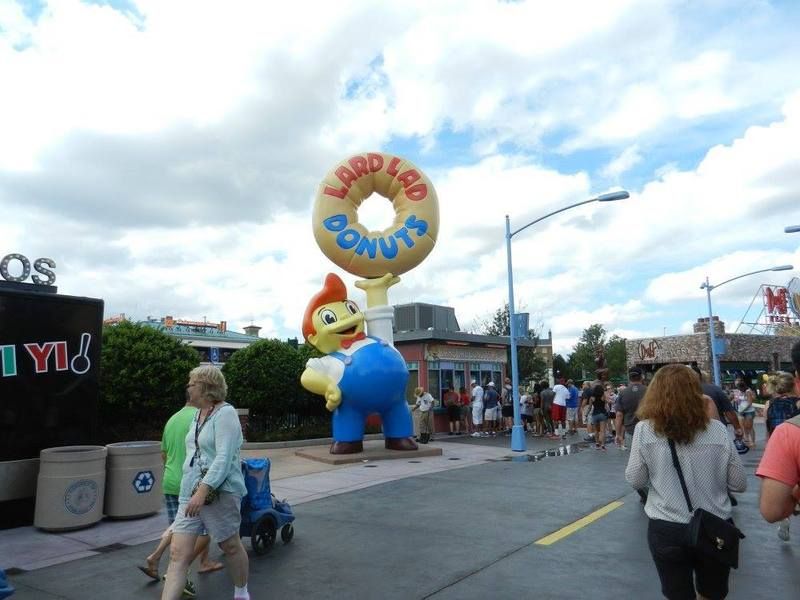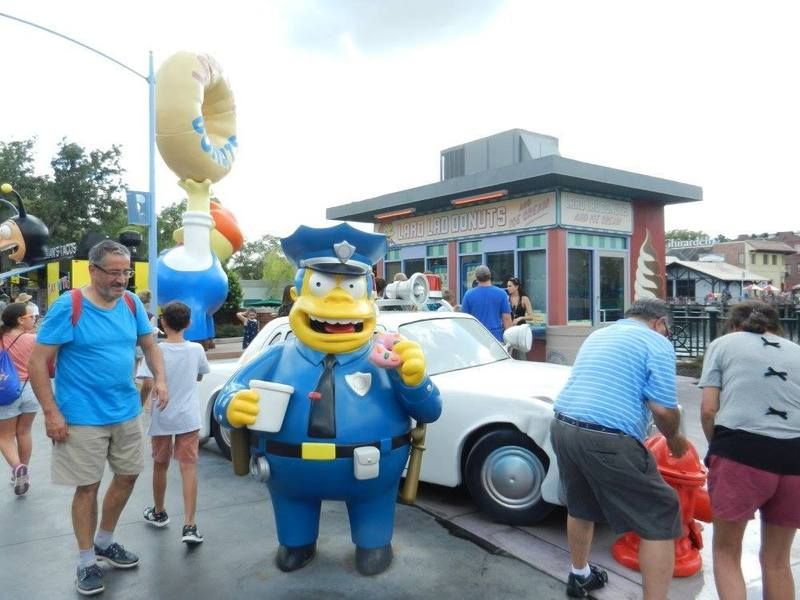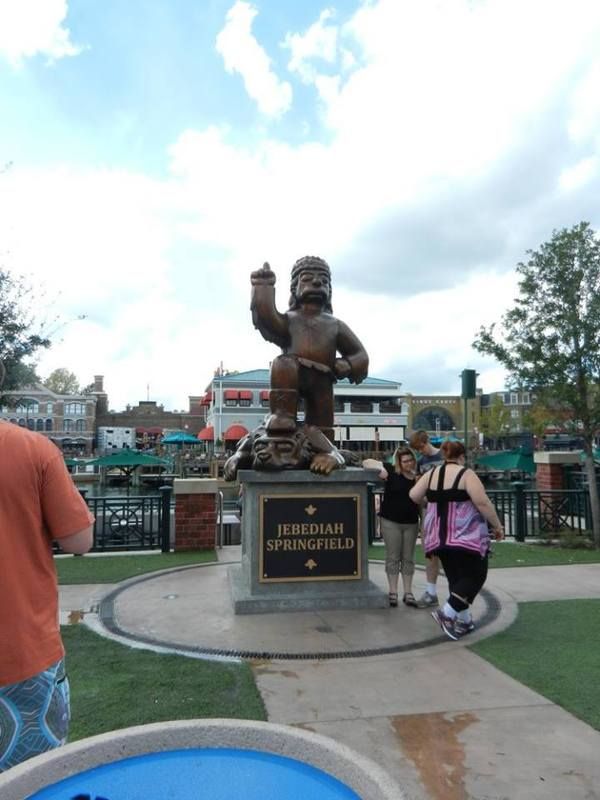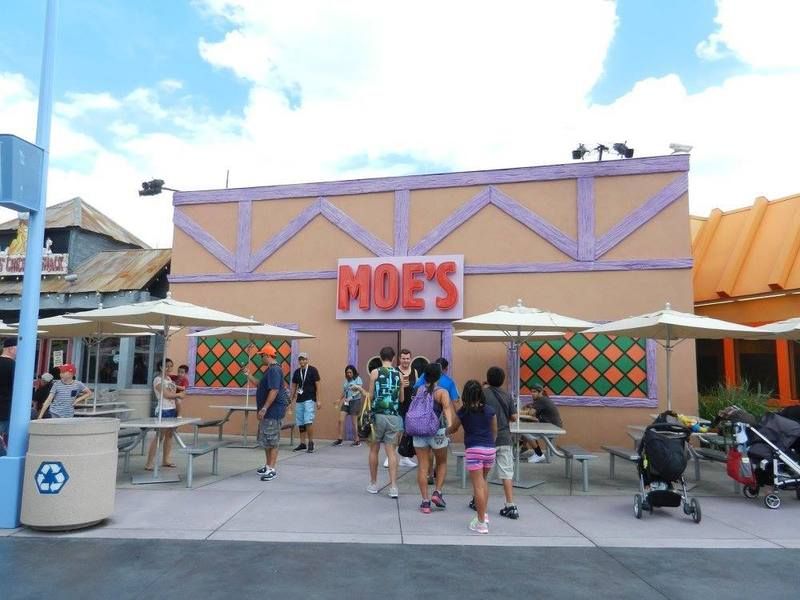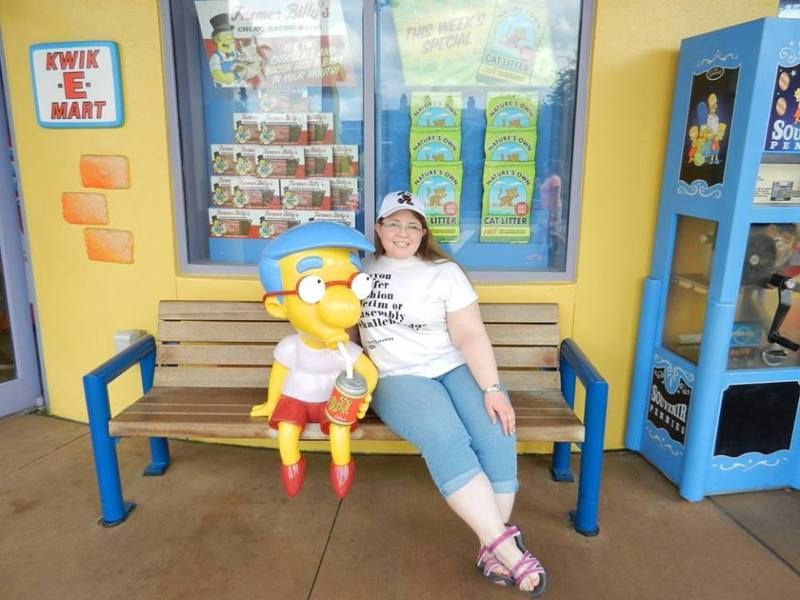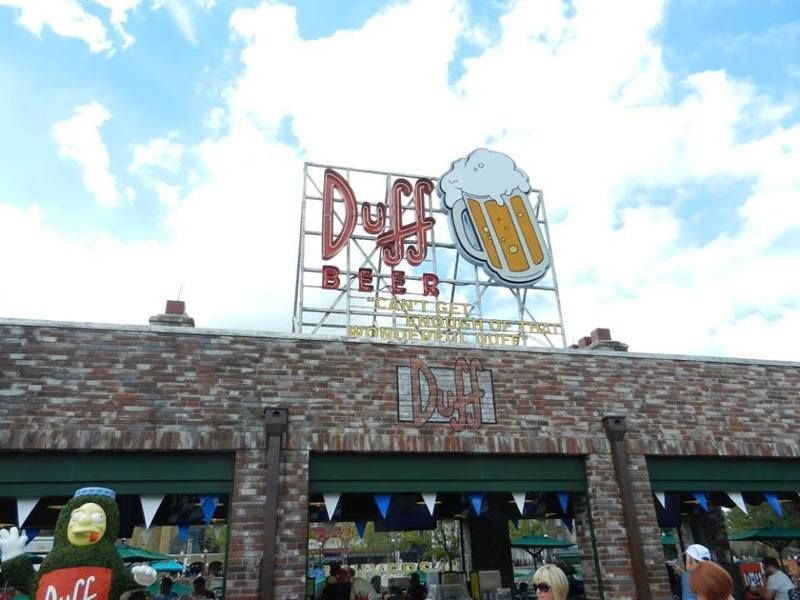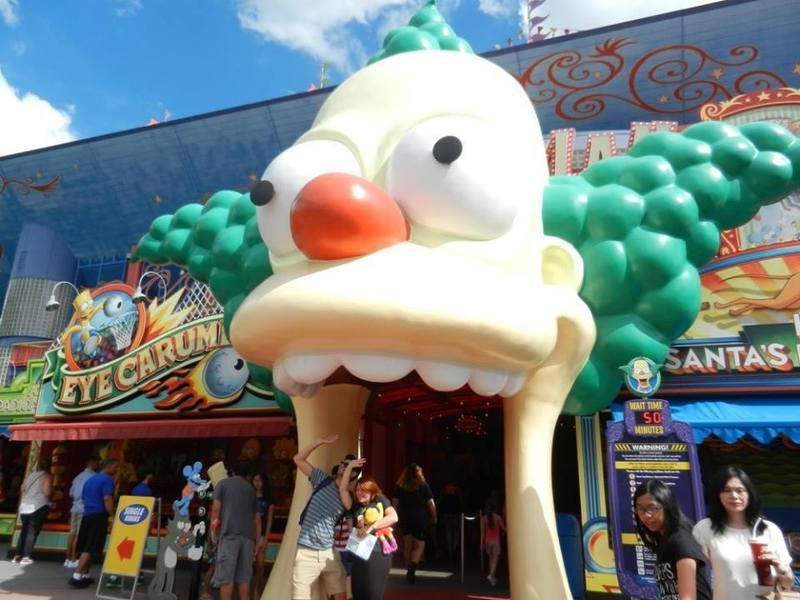 Up Next: Diagon Alley!